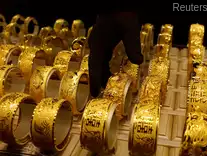 Gold price today rises 1% on safe haven demand as Coronavirus spreads
At 9.07 am, April gold futures were trading 0.87 per cent higher at Rs 43,037 per 10 grams on MCX.
EW DELHI: Gold futures for April delivery rose nearly 1 per cent in Monday's trade amid concerns over the spread of coronavirus outside of China and its impact on the global economic growth.
Silver futures for April delivery were ruling at Rs 48,615 per 1 kg on the exchange.
"Bullion counter can continue its upside momentum as yellow metal continued to hover around its seven-year peak in COMEX midst panic regarding coronavirus outbreak as central banks prepare more easing measures to prop up sagging economies," SMC Global said in a note.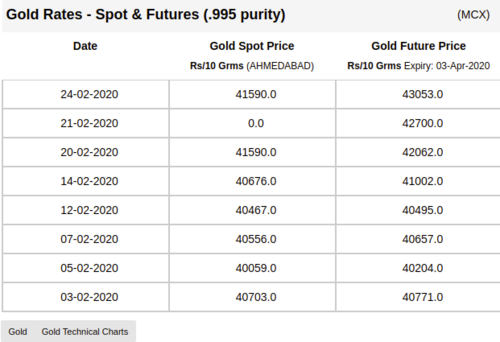 Safe haven demand is pushing gold prices higher globally. Data showed coronavirus is spreading outside China rapidly. Cases in South Korea have touched 763, with eight deaths till date. In Italy, the virus cases have jumped to 150. Iran, which announced its first two cases on Wednesday, has 43 confirmed cases and 8 deaths.
Globally, gold prices climbed more than 2 per cent to their highest since February 2013, as a spike in coronavirus cases prompted a flight to safe havens.
Spot gold was up 1.1 per cent at $1,661.86 per ounce, after climbing to $1,678.58 earlier in the session. US gold futures rose 1 per cent to 1,664.60.
Among other precious metals, palladium eased 0.5% $2,690.52 per ounce. Silver rose 1.2% to $18.69 an ounce, while platinum fell 0.7% to $966.54.
Asian stock markets are seeing panic selling today and India is no exception.
In a sign of panic, E-minis for the S&P500 dropped 1 per cent in early Asian trade on Monday while Nikkei futures slipped more than 1 per cent too. Australia's benchmark index slid 1.6 per cent while New Zealand was down about 1 per cent. South Korea's KOSPI index fell 2.2 per cent. Japanese markets were closed for a public holiday.
Heiko Closhen, Entrepreneur