Social Media Marketing Tips From the Pros
Would you like to improve your social media marketing?
Are you up to date with the best social media tips and tools?
#1: Mine Twitter to Grow Your Audience
While "if you build it they will come" is a great line from a movie, it's a terrible marketing plan. To succeed on the Internet today, you have to create content that ignites and engages an audience. However, if you are a new blogger, you should probably spend more time developing an audience than creating your content.
Here are three easy but overlooked tactics you can use to build an audience on Twitter, which is arguably the best platform for this.
Once you've been on Twitter for a while, you'll notice people will place you on public Twitter lists. Lists are generally categorized by a special interest or geographic location. For example, I might be on lists for "marketing experts," "bloggers" or "business educators." Find a relevant person to follow, and then dig into his or her lists. You'll likely find a goldmine of interesting people to follow who will hopefully follow you back.
Use specialized Twitter search prompts. Unlock the basic search functionality right on the Twitter screen by learning a few of the specialized prompts. This is one of the most powerful market research tools available. Follow this link if you want a complete tutorial on Twitter search.
With these tactics, you can expand your audience to reach people who are seeking your products and services.
#2: Analyze Past Content to Improve Posts
Most businesses analyze the effectiveness of their social media after they publish. Now, there are tools available to analyze data for content curation before you post. Here's how to use Buzz Sumo to leverage the data of what has already been successful in terms of social sharing.
First, enter a keyword that is part of your social media content strategy. BuzzSumo will provide you with a list of the top-performing content in terms of social shares according to your keyword.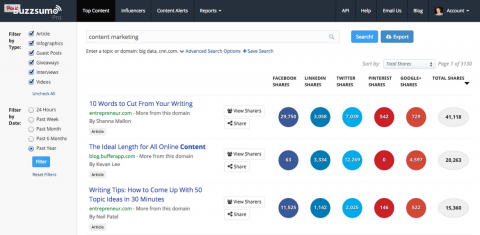 BuzzSumo shows you the top-performing content in terms of social shares.
Next, because some content performs better on some networks than others, you can curate content by social network. Armed with this data, you can increase the effectiveness of your content curation by publishing content that has a greater chance of success on a specific network.
You can also filter content by type (which is ideal if you're looking for videos or infographics to curate) or filter by time period. The latter lets you find content that's been most popular in the last 24 hours or evergreen content that's been popular over the last year. The choice is yours!
#3: Optimize Visual Content with Links
Visual content can act as a "gateway" to more valuable content. When planning visual content to post on social platforms, think in terms of how it can drive traffic back to your website, products, and services.
For example, in this SlideShare deck, Constant Contact included a link back to a resource page listing multiple blog posts with related content.
When fans click through, they arrive at a page of value-added blog posts relevant to the SlideShare topic.
Link a short video back to your website from your YouTube Account or from your Instagram profile link and make sure you provide expanded content around the video. For example, Final Cut King drives his fans on Instagram back to longer content on his YouTube channel by asking them to click the link in the description of his Instagram account.
Final Cut King uses a call to action asking people to click on the link in his descriptions.
#4: Maximize Twitter Real Estate With Images
"Every second, on average, around 6,000 tweets are tweeted on Twitter (visualize them here on Internet Stats live), which corresponds to over 350,000 tweets sent per minute, 500 million tweets per day and around 200 billion tweets per year."
Creating the best possible tweet has never been more important. Adding visual appeal to your tweet is a very smart way to get your most important content noticed.
You can add up to four images per tweet or one fantastic image if you want. The choice is yours! To add multiple images, use regular Twitter. This isn't available on any of the third-party sites. Here's an example of a tweet with multiple images on Twitter.
#5: Switch Up Content Formats
Over the past two years, I've moved to adapted written content for multiple platforms, like YouTube, to increase my reach and visibility.
For example, by turning one of my List25 articles into video every week, I've grown the YouTube channel to 1.3 million subscribers and amassed over 200 million video views. A similar tactic with WPBeginner articles has grown subscribers to over 8,000, and the channel has increased sales for my WordPress plugins.xxxxx
We turned List25 articles into videos.
Changing content formats doesn't have to involve just videos. You can also convert snippets from your existing articles into images—which tend to have better reach on Facebook. These images allow you to leverage the power of social networks such as Pinterest and Instagram.
Here's how I shared a Tip of the Week image on the WPBeginner Facebook page.
Convert blog posts into images for your Facebook page.
Have you written a lot about one specific topic on your blog? Why not combine those articles into an ebook and use it to build your email list? If you're not changing any content format to improve your overall reach, then you aren't maximizing the full potential of your content.
#6: Create a Social Media Channel Plan
So many organizations feel overwhelmed by the need to create content for every social media channel on the planet. Or worse yet, many brands create one type of content and then blast that content onto every social platform. If that's you, you need a social media channel plan.
Most likely, your goals are different on each social platform. Since that's the case, the content you develop for that platform needs to be different as well. Here are the components for your channel plan.
The Channel (For example, Facebook.)
The Persona (Who are you specifically targeting? Please choose one.)
The Goal (Is it a sales goal, cost-savings goal or are you trying to create a better customer experience?)
Primary Content Type (Textual, video, infographics?)
Structure (What does a general post look like?)
Tone (Playful, sarcastic?)
Channel Integration (How will this channel work with your other channels for maximum impact?)
Desired Action (What user behavior do you want to achieve?)
Editorial Plan (Every channel needs its own editorial calendar.)
And this is exactly why content marketing isn't easy. But if you leverage a social media channel plan correctly, you'll be able to double down on the channels that work for you and be realistic with your resources on the other channels.
#7: Deliver Content Consistently
One of the best ways to grow your following and increase engagement on social media is to be there consistently. The first step is to put the right systems in place to keep your posts relevant, interesting and valuable for your audience.
Enter Edgar. I found out about Edgar a couple of months ago and love the platform.
Edgar allows you to create your own content categories so you can keep track of the specific types of posts you're releasing; this ensures you don't overwhelm your followers with the same types of posts over and over.
Manage content categories and avoid repeat posts with social media scheduling tool Edgar.
You can also schedule repeat posts indefinitely, so your content schedule never runs dry. Plus Edgar allows you to upload custom images for your Facebook, Twitter, and LinkedIn posts.
As you build your content library, update your schedule with the categories you want to release and when. Then let Edgar take care of the rest.
Build a content library, update categories and schedule posts in Edgar.
Leveraging a social media scheduler like Edgar has saved me time, helped me grasp the big picture when it comes to my social media marketing strategy and allowed me to stay on top of my game when it comes to delivering valuable content to Fire Nation.
#8: Host Private Hangout On Air Events
Social media success is so often about having a conversation with the right people. If you already think in terms of building segmented lists, then you may appreciate knowing that you can effectively list-build on Google+ in many ways.
Use a private community alongside regular Google+ Hangouts On Air (HOA) events, so you can host a dedicated, private experience while having conversations with the right people.
In doing this for our Academy, we've noticed two trends:
Around a third of community members watch the event within a day.
About 8 to 10 community members also join the event as participants.
Unlike with public communities, when you initiate your event within a private one, the members receive an event invite/notification. This is a perfect way to break through the noise and reach the right audience.
Find the right audience by combining private Google+ communities with HOA events.
In both scenarios, the event will be listed under the Event tab, as well as on the right-hand side of the community.
Selling is increasingly personal, so face-to-face time with your community makes a huge difference. Also, the ability to quickly give them access to links/resources results in a great customer service experience.
#9: Use Hashtags Strategically
If you want to be successful with your social media plan, stop random acts of hashtagging and use a good hashtag to tie all of the pieces of your campaign together.
Use a hashtag that is easy to spell and easy to remember. To make sure your hashtag isn't already being used for something else, check for it on all channels prior to using it for your campaign. Once you create your hashtag, follow and join the conversation!
To follow your hashtag, use sites like Social Mention and Sprout Social. Use TwiPho for searching images on a hashtag.
TwiPho allows you to search Twitter for photos and images on a hashtag.
#10: Test Pinterest for Your Brand
I'd always believed Pinterest is best for organizations that have something visual to show: fashion, food, sports. But a friend recently proved me wrong. An organization that provides software as a service to a very narrow audience tested pinning their blog posts to Pinterest. In some cases, the images from the blog posts were original—infographics, their product in use or PowerPoint decks—and in others, they used a paid Shutterstock account. They built boards based on their brand personas, representing five different segments, and got to work.
Chuck Reynolds
Contributor
Visit the Kairos webiste https://cabinet.kairosplanet.com/register/#111b0e