Wynd creates a bubble of clean air around you by removing dust, allergens, smoke, and pollution from your personal space. Since it filters harmful particles out of the air around you, Wynd helps you breathe clean air and feel refreshed.
Wynd isn't just an air purifier—it's an intelligent personal air quality system. It monitors your environment and cleans as needed. Wynd is the size of a water bottle, so it's easy to use anywhere—in offices, hotels, cars, public transportation, and more. Wynd helps you breathe easy wherever you go.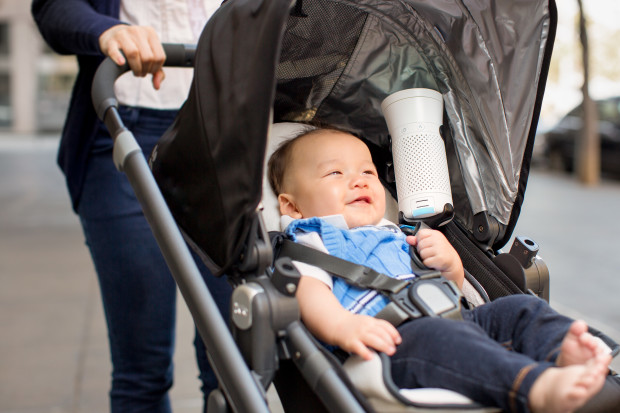 Freshen up your car: Wynd can clean over 70% of particles in a typical car cabin in under 10 minutes. Wynd fits in standard cupholders.Keep your baby safe on the go with the Wynd Stroller Holder. In a semi-enclosed stroller, Wynd can reduce PM2.5 (fine particles) by over 50% and PM10 (coarse particles) by over 70%.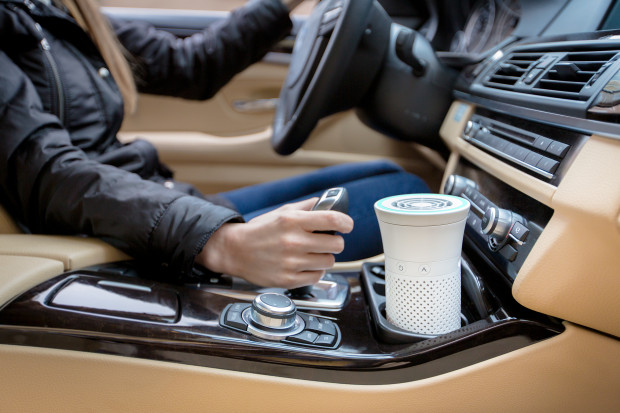 "You can't see what's in the air that you breathe. But the sensor attached to the Wynd air purifier can figure that out for you, and actually do something to clean up that air before it hits your lungs." – Tom's Guide
"Instead of being tied to one particular room or area, Wynd can adapt to different environment. This allows a range of possibilities for use." – PSFK
"Most startups just want to reinforce your phone case or maybe make your speakers a bit more portable. And then there are the ones that have the weight of the world on their shoulders" –
Wynd weighs less than a pound, so it goes where you go.
Wynd's size makes it easy to travel with, and it's a must-have for those going to polluted areas.
No need to keep Wynd plugged in: It lasts for 8 hours of typical use without having to charge it.
Wynd keeps your personal space free from particulates, including allergens, germs, and industrial pollution (PM2.5).
Wynd cleans these particles out quickly. Despite its small form factor, Wynd can deliver over 8 liters of clean air per second.
You don't need to wait to breathe fresh air. Wynd can instantly funnel clean air towards you.
Wynd is more than one device: It's an air quality tracker and purifier in one— and the tracker can actually detach for ultimate mobility.
Know your air quality at all times. The Wynd Air Quality Tracker continuously monitors your environment and alerts you when it becomes unhealthy. The tracker senses for the level of particulate pollution, from sources such as allergens, tobacco smoke, bacteria, mold spores, and smog.
The tracker detaches from the purifier and can clip onto things.
It's the smallest particulate sensor on the market, so you can easily take it with you.
Check the air quality at a glance: The tracker's light color shows you how healthy the air is.
Auto mode
We don't just tell you the air quality: We proactively take care of the problem. With Auto mode, Wynd can automatically adjust its purification level to maintain a clean environment.
Just sit back, relax, and know that Wynd is keeping your air healthy.
Learn more about what you're breathing
Open the Wynd app (for iOS and Android) to get more insights into your environment.
Get notified when the air quality around you is getting worse.
Wynd tells you how much pollution it's kept out of your lungs. By tracking air quality, airflow level, and usage duration, we can determine how many milligrams of particulate matter Wynd has cleaned from the air.
Got friends in L.A., a grandma in Beijing, or a child you want to keep safe? Keep tabs on your loved ones' air quality.
Check out macro air quality levels with Air Bubbles, our free companion iOS app.
As our community grows, we can even combine everyone's tracker data to create a worldwide crowdsourced air quality map—the Waze of air quality. This would open the doors to hyper-local air quality info that could help people around the globe stay healthy.
We worked with Mike Nuttall, one of the co-founders of IDEO, to bring Wynd to life. He designed numerous beautiful and successful consumer electronic products, so we knew he'd help us create a product that's beautiful and easy to use.
Watch Mike discuss his philosophy behind the design of Wynd:
Wynd was designed to fit in anywhere.
Wynd includes a dynamic 360-degree LED light ring that indicates air quality, airflow, battery level, and filter use.
We don't believe in just having low, medium, and high settings: Wynd enables you to gradually adjust its purification level from 0 to 100—to find the setting that's most comfortable for you—by turning the top knob left or right.
The evolution of early Wynd prototypes
Airflow design
Our engineering lead, Eric, is an aerospace engineer who worked on the design of jet and rocket turbine blades before joining Wynd. He used his airflow expertise to craft Wynd's patent-pending fluid dynamics.
We designed a low-turbulence, high-airflow system that keeps Wynd small while enabling it to clean a high volume of air and stay quiet.
Watch Eric discuss how he designed some of Wynd's airflow features: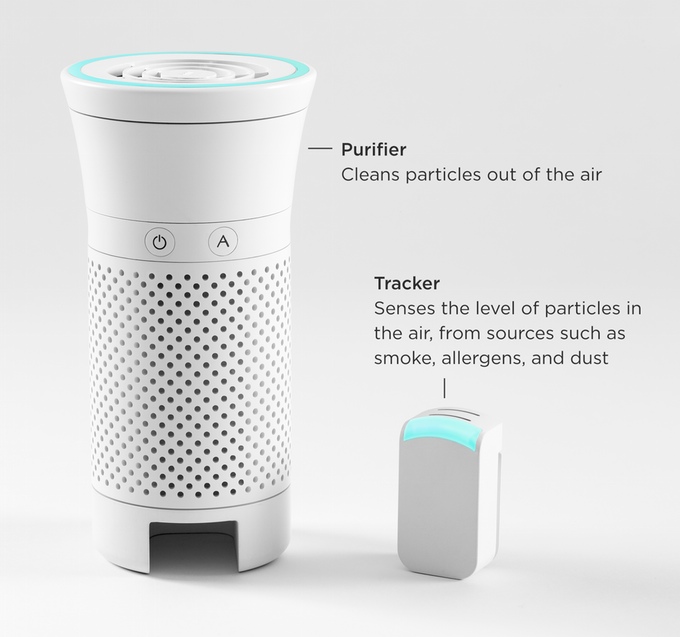 https://www.indiegogo.com/projects/wynd-the-smartest-air-purifier-ever#/
Visit the Kairos webiste https://cabinet.kairosplanet.com/register/#111b0e